Do all people have easy access to a healthy and sustainable diet – Part 1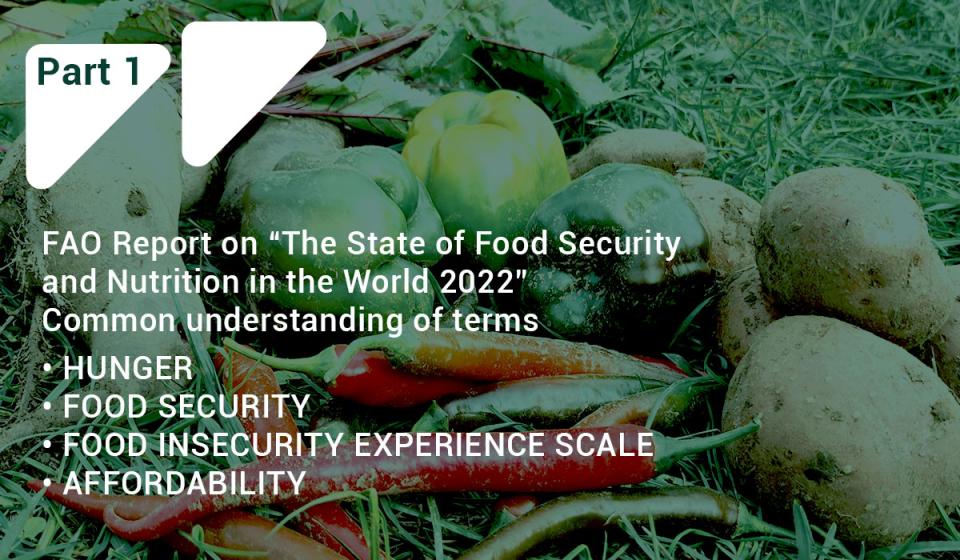 In this first series of blog posts, we will focus on a recent report from the UN Food and Agriculture Organization (FAO) entitled The State of Food Security and Nutrition in the World 2022. The report outlines the current levels of hunger, food insecurity and malnutrition globally and outlines the barriers and facilitators that could be used to make progress towards Sustainable Development Goal (SDG) 2: Zero Hunger. It is a long and important report with a lot of rich information that gives much food for thought! In this series of blogs, we will dissect some of this rich information into bite-sized chunks while also reflecting on what they mean for Europe.
Before we can dive in, we need to make sure that we have a common understanding of terms such as – hunger and food security. We will be using the same definitions the FAO describes in their report.
Hunger: Hunger is an uncomfortable or painful physical sensation caused by insufficient consumption of dietary energy. In this report, the term hunger is synonymous with chronic undernourishment and is measured by the prevalence of undernourishment (PoU).
Food security dimensions:
Availability: addresses whether or not food is actually or potentially physically present, including aspects of production, food reserves, markets and transportation, and wild foods.
Access: addresses whether or not households and individuals have sufficient physical and economic access to that food.
Utilization: addresses whether or not households are maximizing the consumption of adequate nutrition and energy. Sufficient energy and nutrient intake by individuals is the result of good care and feeding practices, food preparation, dietary diversity and intra-household distribution of food, and access to clean water, sanitation and healthcare. Combined with good biological utilization of food consumed, this determines the nutritional status of individuals.
Stability: he condition in which the whole system is stable, thus ensuring that households are food secure at all times. Stability issues can refer to short-term instability (which can lead to acute food insecurity) or medium- to long-term instability (which can lead to chronic food insecurity). Climatic, economic, social and political factors can all be a source of instability.
Two additional dimensions include:
Agency: the capacity of individuals or groups to make their own decisions about what foods they eat; what foods they produce; how that food is produced, processed and distributed within food systems; and their ability to engage in processes that shape food system policies and governance
Sustainability: long-term ability of food systems to provide food security and nutrition in a way that does not compromise the economic, social and environmental bases that generate food security and nutrition for future generations
Food Insecurity Experience Scale (FIES): An experience-based food security scale used to produce a measure of access to food at different levels of severity that can be compared across contexts. It relies on data obtained by asking people, directly in surveys, about the occurrence of conditions and behaviours that are known to reflect constrained access to food.
One additional definition that is important is that of affordability, which is very topical currently giving the food price inflation and cost of living crisis we see across the world:
Affordability: Affordability refers to the ability of people to buy foods in their local environment[...]cost refers to what people have to pay to secure a healthy diet, while affordability refers to the cost relative to a person's income, minus other required expenses.
Now that we have these key terms out of the way, the next post will focus on giving an overview of the state of hunger and food security across the world as highlighted by the FAO report.
Until next time!

Tuesday, September 27, 2022