Celebrating Women's Contributions to Sustainable Food Systems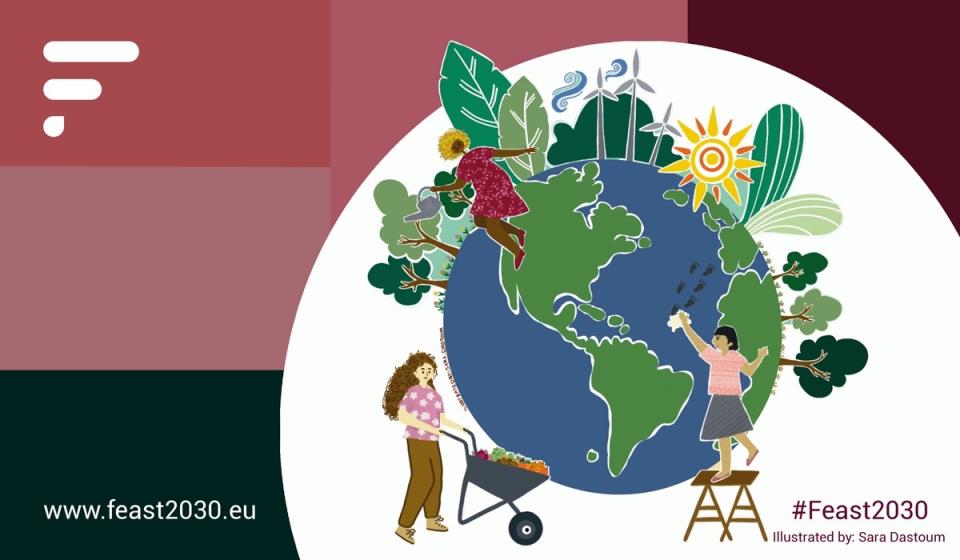 Image source: FEAST, Illustrated by: Sara Dastoum
International Women's Day is a day to celebrate the achievements of women in all areas of life, and to recognize the continued struggles and obstacles that they face in achieving gender equality. In the realm of sustainability and food systems, women have played a crucial role in driving the transition to more sustainable and just food systems in Europe. One project that highlights this is FEAST, which seeks to engage diverse stakeholders, including vulnerable groups, to co-design sustainable and healthy food solutions at all levels of the food system.
Women play an essential role in the food system, from producing food to distributing it, preparing it, and ensuring that it reaches their families and communities. Women often bear the burden of food insecurity, with a higher likelihood of experiencing hunger and malnutrition, particularly in developing countries. In Europe, women are often underrepresented in decision-making positions in the food system, which can hinder progress towards more sustainable and just food systems. 
The FEAST project recognizes the importance of women's perspectives and experiences in designing sustainable food solutions that are not only effective but also equitable and just. It is with this in mind that the FEAST project aims to identify how women and vulnerable groups can be supported and empowered to facilitate and benefit from the just transition to healthier and more sustainable dietary behavior. Women are essential participants in this process, as they bring unique perspectives on the challenges they face in accessing healthy and sustainable food and the opportunities they see for change. By engaging women in the design process, FEAST tries to ensure that the solutions developed are not only sustainable but also take into account the needs and experiences of those most affected by the food system.
Moreover, the FEAST project recognizes that women are key drivers of change in the food system, and empowering them is essential for achieving a just and sustainable transition. Women are often leaders in their communities, and by providing them with the tools and resources they need to implement sustainable food solutions, they can catalyze change that benefits their families, communities, and the wider environment. For example, women can play a crucial role in promoting local and sustainable food systems, reducing food waste, and advocating for policies that support a more equitable and sustainable food system. 
As we celebrate International Women's Day, let's continue to recognize and support the vital role that women play in building a more sustainable and just future for all!